Home » Insights » Guides » The Fundamentals of Email Marketing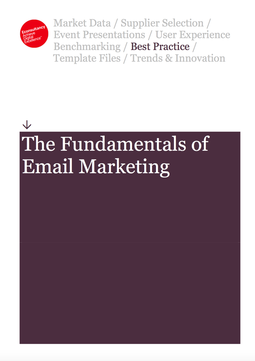 No tool in your marketing toolbox is as valuable and necessary to you as your email marketing programme:
Email generates a generous return on investment, higher than any other digital marketing channel, including search and social media.
Email extends the reach and power of every other marketing channel you use, whether it's digital, mobile, print, broadcast or out-of-home.
Holistic email marketing improves the customer experience.
Email messages can align with all of the touchpoints on the customer journey, from browsing to buying and on to loyalty.
Continuous platform development makes innovations possible.
The Fundamentals of Email Marketing report will help marketers understand, implement and execute email strategies to maximise return on investment in this channel.
What the report includes
The report includes initiatives, strategies and tactics that are not part of the conventional wisdom surrounding 'best practices'.
All the initiatives, strategies and tactics recommended in this report assist both the marketer and the consumer. We've created this guide so you can use it to either review your existing email strategy or to help create a comprehensive email marketing strategy from scratch.
We've also included a multitude of practical tips you can apply to individual campaigns to help maximise results.
A word of advice before reading – always question a tip and test it, even the ones we advocate here. Don't accept on faith that something is the best route to take.
However, whether you are a time-pressed newcomer to email or a grizzled veteran looking to elevate your programme, this guide and its recommendations are a good place to start.
How the report is structured
We've written this as eight standalone sections covering the essential areas of email marketing:
Objectives and strategy
Growing your database
Using your email for targeting
Designing for email
Copywriting for email
Testing and optimisation
Reporting success using metrics that matter most
Deliverability optimisation
So you have a choice: you can sit back and read this guide from beginning to end like a book or you can jump to the section that has the most relevance to your current needs and explore it and delve into the others as and when needed.
Author and contributors
This guide has been put together by Kath Pay, who lives and breathes email marketing, with the aid of several experts who have kindly contributed their time and effort in producing this guide.
Contributors to the report include:
Skip Fidura, Client Services Director, dotMailer
Guy Hanson, Senior Director of Professional Services, Return Path
Steve Henderson, Compliance Officer, Communicator
Loren McDonald, Marketing Evangelist, IBM Marketing Cloud
Dela Quist, CEO, Alchemy Worx
Jordie van Rijn, Email Marketing Consultant, eMailMonday
Karen Talavera, President, Synchronicity Marketing
Catherine Toole, Founder and non-executive Director, Sticky Content Ltd
Download a copy of the report to learn more.
A free sample is available for those who want more detail about what is in the report.
Download from Econsultancy