Home » Insights » Email Marketing Reports » The State of Unsubscribing in 2016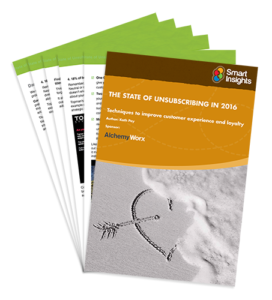 Authored by Kath Pay, this email unsubscribe report from Alchemy Worx and Smart Insights, shines a light on the email unsubscribe process of 87 retail brands – and how many are falling short.
With recommendations for delivering a good email unsubscribe experience, and insights into why it's so important, it's a must-read for anyone wanting to continue a relationship with customers after they hit unsubscribe. In this report you'll discover:
Why 1 in 5 retailers fail to meet expectations, creating experiences that can harm their brands and end the customer relationship permanently
Which email unsubscribe techniques enable a good customer experience
Examples of the good, the bad and the ugly
To read the State of Unsubscribing in 2016 please share some details with us and we will send you a link to download the report.