Home » Insights » Email Marketing Reports » Email Marketing Vendor Satisfaction Report
How satisfied are you with your email service provider? What are the key factors that influence your experience? How do your opinions and experiences compare with your fellow marketers?
Our new email marketing vendor satisfaction report pinpoints marketers satisfaction (or the lack of it)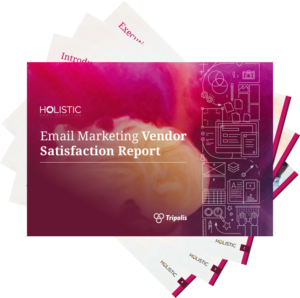 A new study by Holistic Email Marketing and Tripolis aims to answer these and other questions and establish the state of play in email technology satisfaction.
The Email Marketing Vendor Satisfaction Report investigates how marketers feel about their ESPs, the factors that drive their satisfaction levels and how they use the services their ESPs offer.
We surveyed marketers across the globe, from one-person departments to teams of more than 20 and who work for brands and agencies of all sizes. They revealed candid opinions on topics like these:
What percentage of an ESP's tools and features they use
Which email vendor features deliver the most and least user satisfaction
Whether vendor size has any relation to user satisfaction
How marketers are adopting new technology such as artificial intelligence
What role business strategy plays – if any – in technology decisions
What we learned will surprise you
Here are just three findings from our 28-page report:
Vendor size is clearly linked to user satisfaction.
Functionality/features and ability to integrate with existing software outrank cost for choosing vendors.
Fewer than half of marketers are getting good use from their ESPs.
How to use this email marketing vendor satisfaction report
This study doesn't aim to find the "right" or "best" platform for you. Each company has unique needs that influence vendor and technology choices.
But, what you learn can guide your technology and strategic planning and show you how your experiences, sentiments, and strategies compare with your marketing peers.
"This report proves very insightful when trying to understand the email service landscape. It's crucial when finding a vendor that you enlist a platform which helps you achieve your short and long-term goals in a scalable way.
"The report also highlights key strains that most marketers face within the industry, which in turn, can enable someone to optimise the way they work."
– Adeola Sole, CRM Consultant, The Guardian 
To read this valuable Email Marketing Vendor Satisfaction Report, please share some details with us and we will send you a link to download the report.