Home » Insights » Email Marketing Reports » Customer Experience Email Marketing: Getting Ahead of the Consumer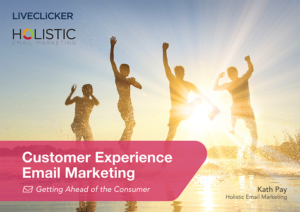 Grab your copy of our latest report on Customer Experience Email Marketing
Customer Experience Email Marketing (CX Email Marketing) is a balanced approach to email marketing in which brands achieve their goals and objectives by helping customers achieve theirs. It shouldn't be a radical notion, but a quick glance through the inbox will reveal message after message fails to ask one simple question: "How can we help you today?"
Why this research?
We asked the question "How can we deliver email marketing that the consumer wants to receive and still achieve our objectives?"
The answer seemed obvious. By helping the consumer to achieve their objective, we the brand, by default achieve ours. So we teamed up with Liveclicker and conducted a study where we established how 82 UK Travel and Retail brands fare on the three pillars of Customer Experience Email Marketing: helpful content, personalisation, and customer-focus. We also wanted to learn whether higher CX Email Marketing scores correlated with stronger reader engagement and to share examples of emails that exemplify CX Email Marketing.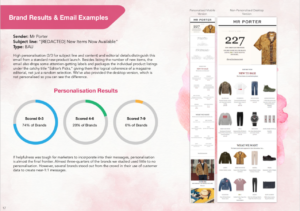 Download this CX Email Marketing report to:
Discover how Retail and Travel brands are currently faring with each CX Email Marketing pillar: Helpfulness, Personalisation & Customer-focused
Learn how to leverage the three pillars of CX Email Marketing & deliver more engaging and valuable emails
Be inspired by some great examples of emails that are delivering CX Email Marketing well
To read this valuable Customer Experience Email Marketing Report, please share some details with us and we will send you a link to download the report.