Home » eCRM Events » Holistic Live! – Email Marketing Events » Holistic Live! Together » Holistic Live! Together in London May 2018
Revealing the Report: Preparing for GDPR: The State of Retail Email Subscribe Forms in 2018
This event is free to attend for B2C brand marketers only but spaces are limited.
When: 2nd May – 08:30- 11:30am
Where: etc.venues Fenchurch Street, 8 Fenchurch Pl, London EC3M 4PB
Cost: FREE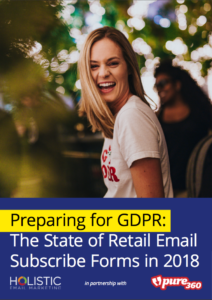 Holistic Email Marketing and Pure360 have come together to provide you with a morning of inspiration, learning, networking and breakfast.
Learn from some of the industry's finest email marketers, Kath Pay of Holistic Email Marketing & Komal Helyer of Pure360
In January 2018 we subscribed to emails from 80 different retail brands of all sizes, markets and name-brand familiarity. We also registered as customers if the brand offered that option. Then we tracked the email results and compiled them to get as comprehensive a picture as possible of retailers' email subscription practices. Join us to discover the answers to questions such as: How many retailers are doing a good job with their subscribe forms? How many are already GDPR compliant? What's the most popular number of fields used in subscribe forms?
In addition to gaining these insights, you will also:
• Hear expert advice from Komal Helyer and Kath Pay
• Be equipped with ideas to test to ensure that your list will grow beyond May 2018
• Learn from these findings, to help you shape and plan your forms in readiness for GDPR
About the speakers: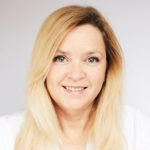 Kath Pay, founder of Holistic Email Marketing – Kath lives and breathes email marketing, with over 18 years email marketing experience, and 10 years on the UK DMA Email Marketing Council, she is regarded as an industry thought leader. Kath is recognised as one of the UK's leading Email Marketers and heads up training for Econsultancy on Email Marketing.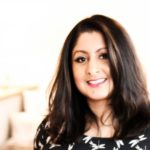 Komal Helyer, Head of Marketing at Pure360. With over 18 years of email and digital experience, Komal has a deep understanding of marketing strategy, a marketer's needs and how that translates into the use of marketing technology. She leads the Pure360 marketing team with a focus on market positioning and customer lifecycle marketing. Komal has worked with some leading brands including HSBC, Carphone Warehouse and Black & Decker.


*There are limited spaces so vendors and agencies please contact us at together@holisticemail.com to see if we can accommodate you.