Home » Email Marketing Consultancy Services » Email Marketing Strategy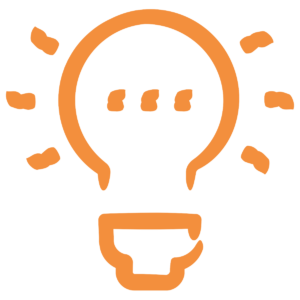 Discover > Devise > Develop
Success comes from having an email marketing strategy
Need help devising your email marketing strategy? Well, you're in luck! We're passionate about crafting strategies that deliver results – whether it be an email marketing strategy, a digital marketing strategy, a testing strategy or a personalisation strategy. All too often we find that companies have strategies in place for all channels with the exception of email as it is mistakenly viewed as an unnecessary expense rather than an investment into this valuable channel . Email marketing is a channel that, more often than not, is the chief driver of traffic, conversions and revenue. 
Blueprint to success
We're firm believers in having a solid email marketing strategy in place. After all, if you don't know where you're going, how are you going to get there? Think of your email marketing strategy as being a blueprint to success.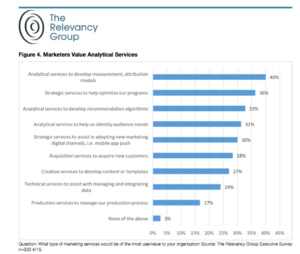 Turns out we at Holistic are not the only ones who value strategic services. The chart to the right from The Relevancy Group shows that marketers value strategic services to help them optimise their programmes. Are you one of them?
Too often as brands we're tempted to prioritise tactics (driven by technology) over strategy, but without the strategy as a basis to guide and inform the tactics, you can spend budget and resource implementing tactics that don't achieve our goals. You need both strategy and tactics, but best to start at the right place – with an email marketing strategy.
What is involved?
Our expert email marketing consultants will deliver a robust and comprehensive written strategy based upon your goals and objectives. This report will contain your goals, objectives, strategies and tactics – all working together to set you on the path to success.
The end deliverable includes a 2 hour meeting or call to walk through the strategy with you. Not only will the strategy identify all the tactics required to achieve your objectives, but it also will include a recommended roadmap for implementation, breaking the tactics into big wins, quick wins and future wins.
Get in touch today to see how we can help you
Don't just take our word for it…
The email strategy and flows that Holistic Email Marketing & Hagopian Ink created delivered a 2x ROI in 6 months. We were able to lift and sustain our online our sales by 5% – 10% through 3 basic, yet, strategic email executions. And even better, we are doing it through email communications that are on brand, improving the frequency of our brand touches with our consumers. – Jen Pike, Canadips
After neglecting the channel, we knew that we needed to jumpstart our email program. To ensure that we went down a good path, we looked to Holistic marketing to help guide our efforts to drive better customer engagement and more commerce. Kath and her team provided welcomed expertise to collaborate on our strategy and map out the tactics that drove results for our new email program. Since bringing them on, we've made great improvements with our email testing endeavors, template design and triggered workflows. If you are looking email program help, then look no further than to Kath and her team. – Robert Dudley, TransUnion
Kath gave us a very comprehensive overview of our customer journey and helped us to see our business from a completely different perspective. When you're stuck in the detail every day, Kath's expert opinion was extremely valuable. She pointed out "quick wins" which we could immediately implement & longer-term strategies that we should be thinking of. Kath offered an outsider's perspective with a wealth of knowledge. Would recommend to anyone serious about their CRM strategy! – Tor Hopkins, Kate Spade New York
Kath is fantastic and someone I hold in very high regard. She inspires me and her passion for email/CRM communications is amazing. She delivered a clear and concise email strategy for my company, which has allowed us to take our email marketing onto better routes to market. I cannot wait to work again with Kath. and drive our email marketing even further. — Phil Ireland, Clothingsites