Recession-proof email marketing: Tips and resources to help your brand prevail
Recession-proof email marketing – when times get tough, marketing budgets get cut. At the same time, we know businesses that keep investing in email marketing during a recession end up better off when the economy improves.
Email marketing can be your most effective channel thanks to its low cost and direct connection to your customers' inbox. But how can you use email to keep driving sales and engagement in lean times?
Below you'll find a quick-start guide, highlights of our webinar Email & More: Recession-Proof Marketing, and a regularly updated list of resources from Holistic Email Marketing and other email thoughts leaders to help you prosper in the midst of economic change.
4 quick wins that can make a big difference
Getting started can be the hardest part. We recommend these four approaches to make your email marketing programme more effective, build stronger customer relationships, and use your resources more wisely. When you combine all four, you can unleash the full power that email marketing promises.
1. Uncover gaps and reveal opportunities with an email audit
2. Create or update your strategic plan
3. Establish or upgrade an email testing plan to learn more about your customers and measure your email effectiveness
4. Get more email into your customers' inboxes
Email & More recap: Recession-Proof Email Marketing
Helping marketers succeed in a tight economy is so important we used it to kick off Season 4 of Email & More, a Q&A with… with our sponsors, RPE Origin and Bloomreach.
In Episode 1, Recession-Proof Email Marketing, we asked a panel of recession-savvy email marketing veterans for their best advice, and they delivered!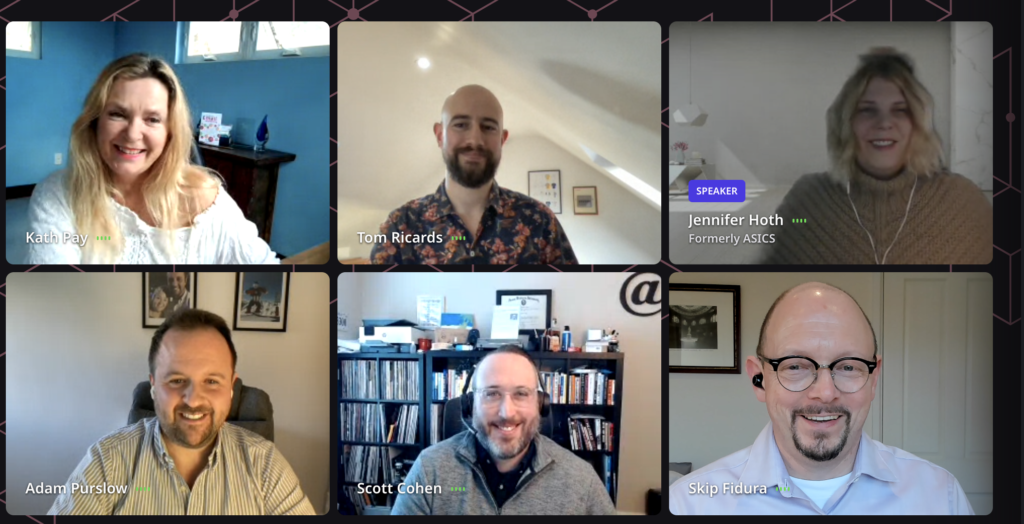 Below are highlights from Recession-Proof Email Marketing to whet your appetite.
1. Fine-tune your email marketing programme to show customers you know who they are.
Adam Purslow, TheLoyaltyCo: "Similar to what we saw during COVID-19, people have less disposable income. The key is to push on with engagement and speaking to customers and being aware that people aren't going to spend as much. If people are going out to eat only once a year or so now, being the restaurant people go to becomes more important."
Kath Pay, Holistic Email Marketing: "Email is a push channel. We can gently nudge customers so that when the economy allows, they can act. That's why we need to be in their inboxes regularly with great deals and relevant content.
"We need to continue with empathy and a customer-centric focus on our recipients. We are grappling with meeting KPIs, but that thinking is more about the brand and less about customers. When you help customers achieve their goals, they will help you achieve yours."
2. Protect your profit margin by targeting the right customers with the right email messages.
Adam Purslow: "Use email segmentation and targeting to find the people who might have lapsed but are more likely to re-visit, before customers who are slightly warmer. You have to be careful with your targets and not blanket them with money. Keep monitoring your uptake and reporting."
Scott Cohen, SmileDirectClub: "This puts the bullseye on the email channel because we're [perceived as] cheap. We are also the channel to nurture and market to the purchase cycle, which gets longer. We have to balance that longer cycle against immediate returns."
Tom Ricards, Bloomreach: "Understanding the customers is absolutely everything. We need to be able to respond to changing segments in real time."
3. Gather more customer and transactional data and listen to what they're telling you.
Jennifer Hoth, formerly ASICS and DEG: "Now is a great time to gather first-party and zero-party data to understand why they're buying and to get to know them better, to go beyond just the transactional data to know them personally.
"We need to understand who they are, what their world is like now, what's keeping them engaged, and to be sure with your data that you're sending relevant communications."
4. Don't let fear hold you back.
Kath Pay: "This is why you have to understand your audience and the value you're giving with your email. In my 24 years of doing email audits, I find a majority of marketers are leaving money on the table because they aren't sending emails often enough. That's because of fear of deliverability issues.
"I'm not saying 'Forget the fear and blast your list!' But that's where you have to be smart and work out what will be the best. Don't refrain from sending based on fear because you could be making things harder instead."
Skip Fidura, Fractional CMO: "You know every email you send out. Your recipients don't know every email they receive. You might feel as if you're sending out a lot, but it might not feel like that to your recipients."
Adam Purslow: "A client sent out a small amount of highly personalised emails. Deliverability and open rates were great because the emails made subscribers feel like we were talking to them. As long as you're clever with personalisation, deliverability will not be an issue."
5. Keep testing your email programmes and learning.
Jennifer Hoth: "It's very important to know your audience and to always be testing, because [your audience] is always changing, especially in times like these. I appreciate being able to do A/B testing and to find out what tone works best with customers is genius, and it doesn't cost what it would take to install a new technology."
Next: Watch the full recording to discover more insights, strategies and advice our experts shared, along with real-world examples of how marketers used their smarts, data and technology to generate more value from their email marketing, for customers and their brands alike.
More resources to build your recession-proof email marketing programme
We've also pulled together insights from Holistic CEO/Founder Kath Pay and other email thought leaders, who share strategic and tactical advice as you research new approaches to email marketing. Bookmark this page and check back to see what new resources we find for you!
Four reasons why email marketing is worth investing in now more than ever (By Holistic's Kath Pay, published in ClickZ)
Economic bad news refocuses attention on strategy over tactics (By Kath Pay, published in Only influencers)
3 recession-defeating marketing strategies (MarTech)
Why Email Marketing Wins in a Struggling Global Economy (Email on Acid)
What marketers need to know to prepare for 2023 (MarTech)
2023 will break all email records – here's why (Only Influencers)
Why email will survive 'earth-shattering kabooms' in 2023 (Only Influencers)
5 reasons why marketing is essential in a recession (Jarrang)
Messaging During Recessions: 3 Opportunities for Marketers (CMSWire)
7 Reasons Why Email Marketing is Recession Proof (LinkedIn)
What can marketers learn from previous recessions (Cordial)
When you need expert help …
For over 14 years, the consultants at Holistic Email Marketing have helped brands flourish in lean times and boom times. Call on our expertise to assess your current email programme's performance and help you discover how to prosper no matter what the economy brings.
Just reach out for a no-obligation conversation about your goals and needs, and we'll take it from there.