It's time to put the 'marketing' back into email marketing
Adopting a holistic approach to email marketing will help you break through barriers, serve your customers better and drive stronger results for your company.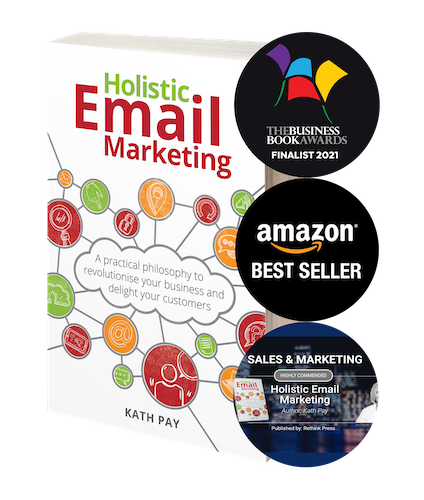 Holistic Email Marketing is a reliable source of up-to-date, practical guidance, inspiration and thought leadership to make your email marketing programmes dynamic. This book will enable you to:
Develop strategies and tactics that will make you a better email marketer
Craft email messages that your customers will love and act on
Achieve your goals by using 'Helpful Marketing'
Apply a scientific method to testing and marketing to reduce waste and learn what works
What people are saying about Kath's book, Holistic Email Marketing
"I've long admired how someone with such a tenure in the industry can find new and compelling ways to improve on the practices handed down for decades, and this book is full of new ideas and approaches for marketers to adopt." — David Baker, industry veteran, consultant
"Every chapter is actionable, inspiring a new thought process, ready to guide marketers on a much-needed holistic customer journey." — Lea Palomba, Marketing Communications and Operations, formerly eBay Global Marketing Operations
"Over and over again, digital marketers have turned to Kath because of her leadership, ideas and ground-breaking strategies and now, with Holistic Email Marketing: A practical philosophy to revolutionise your business and delight your customers, marketers can learn from real world examples and enact the advice from an industry pro. From speaker, columnist, contributor and now author, Kath's contribution to this space and the people in it is unmatched." — Ryan Phelan, Origin Email Agency
"I just picked up your book, and while I am still mid-read, I just wanted to drop a note and say thank you for focusing a lot of your content on strategy first, technology later.  So many of us (me included) have stepped on technology land mines that have taken up far too much time and effort for debatable return.  … I appreciate your fresh and seasoned perspective on getting back to marketing basics as the foundation to build solutions." – Jared Chase, Senior Manager for CRM, Retention and Loyalty, Health & Home
Where to get a copy of Holistic Email Marketing?