How 'Helpful Marketing' can take your email strategy from brand-centric to customer-centric
"Helpful Marketing is like the helpful salesperson. Instead of basing the customer relationship on transactions alone, it frames every email you send as a customer-service-oriented message, even when the goal is to sell."
In the second article of my four-part ClickZ series, I listed four common mistakes email marketers make that hold them back from achieving their email goals and promised to show you how to move past them.
I'm keeping that promise now by showing you how shifting from a brand-centric to a customer-centric approach to email marketing can help you achieve more with your email marketing than you might have thought possible.
Background: What is Helpful Marketing?
If you ever worked in retail (or been a customer), you know there are two kinds of store clerks: the ones who hang out at checkout and wait for people to come to them, and the ones who approach browsers and offer to help.
Helpful Marketing is like the helpful salesperson. Instead of basing the customer relationship on transactions alone, it frames every email you send as a customer-service-oriented message, even when the goal is to sell. With Helpful Marketing, you put your customers first in everything. In your acquisition practice, your messaging, and how you use everything you know about your customers to deliver value with every message.
The greatest lesson I've learned in my decades as an email marketer, and one I repeat over and over with my clients, is this:
When we marketers help customers achieve their goals, they will help us achieve ours.
This doesn't happen because customers will feel as if they owe us a favor but because they know they can turn to us, more than to our competitors, as reliable partners that will help them find what they need, solve their problems, or make their lives easier.
Three ways Helpful Marketing helps you become customer-centric
We often don't differentiate between feature-based marketing – what's new, different, better, in style – and benefit-driven marketing. The first approach focuses on what the brand wants to tell the customer. That's brand-centric marketing. It isn't customer-centric marketing, which speaks to what customers might want from the brand.
This list of characteristics explains why Helpful Marketing can help your brand stand out, first in the inbox and then in your customer's small circle of go-to brands:
1. Helpful Marketing puts customers first
It doesn't just suggest products to buy. "Buy This Now" isn't always the right message to send.
Customers aren't in the market to buy every day. So, instead, you make your brand indispensable so that when customers are ready to buy. Whether it's an impulse purchase or a well-researched decision, your brand is the one they choose.
Helpful Marketing shows customers use the products they already own, gives tips on buying more successfully, communicates with them at the right point in their customer journey with the brand, and always gives customers a reason to open each email.
2. Helpful Marketing uses data and testing to learn what prompts customers to act
With Helpful Marketing, you spend less time producing a daily campaign to send to all your customers.
Instead, you rely on a set of triggered and targeted messages that launch automatically according to your data on your customers' behavior and preferences and where they are in their journey with your brand.
Testing is a key factor in Helpful Marketing, but not because you're looking for a subject line that will drive more opens in the campaign you're about to send. In Helpful Marketing, you evaluate continually to learn what motivates them. For example, whether your customers respond better to emotional appeals, fear of missing out, saving time, or saving money.
This approach takes more than simply testing one subject line against another. But the payoff comes when you can take the guesswork out of your messaging. Wouldn't you like to do more than just send a campaign and cross your fingers that it works?
3. Helpful Marketing uses advanced technology to respond immediately to customer actions
This might be the biggest sticking point in moving up from basic "Buy This Now" messaging to the sophisticated framework of messaging, testing, data, and automation that Helpful Marketing requires.
If you aren't ready to make that move or figure you do okay with the one-to-everyone campaigns you send right now … well, fine. But you can make so much more money, serve more customers, and help your company grow when you invest in Helpful Marketing.
How Helpful Marketing can solve four common email marketing errors
Here are those mistakes, as I explained in my previous post, The four common mistakes holding back your email success.
Let's take a look at how Helpful Marketing addresses each one:
1. A burned-out email list
Burnout happens when you send one irrelevant campaign after another with just one message: "Buy This Now." With Helpful Marketing, you send many kinds of messages that address customer needs more often.
2. Outdated customer insights
When you send more relevant messages, especially with messages tied to specific points in your customer journey, you'll get more action on your emails. That, combined with systematic testing generates a steady supply of fresh insights you can use to adjust and update your messaging.
3. Using bad email 'best practices'
I'll just say it right up front: Moving to Helpful Marketing can be scary. You won't get there walking the same well-worn paths that everybody else follows. But you're not striking out into completely unknown territory. Your data and what you already know about your customers will generate your first maps, which you can refine as you go along.
4. Valuing tactics over email strategy
All of these happen because you're looking at your email messages from your brand's point of view. This is what you want to say instead of what they want to hear. With the customer-centric viewpoint that's at the heart of Helpful Marketing, you ask yourself, "How can this help my customers solve problems and achieve goals?" With this frame, you're less likely to waste time on unsuccessful or errant tactics.
Five email examples of Helpful Marketing
Remember those two kinds of store clerks I mentioned back at the start of this post? The emails below are like the digital versions of that more helpful salesperson. They aren't just telling the customer to buy but, instead, helping make buying easier.
Each email here is a message that responds to a specific point where your customer will benefit by hearing from you without having to reach out to you directly. These examples show how you can reframe the conversation without blowing up everything you're doing now and starting over.
1. Replenishment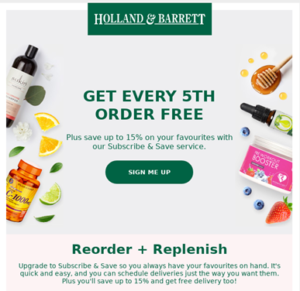 Subject line: Get every 5th order free
Why it's helpful: These emails are as much about service as they are about sales. By reminding your customers to reorder before they run out, you save them time and trouble. And if they don't reorder, that's a data point that can trigger a follow-up email.
2. Abandoned browse session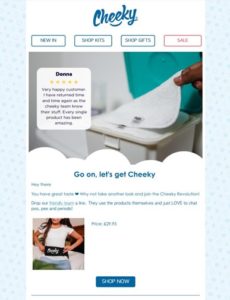 Subject line: Has something Cheeky caught your eye?
Why it's helpful: Most abandoned browse emails center on the browsed items. Cheeky looks beyond the "what" and asks "Why didn't this customer buy?" Hence, it adds a link to customer service and aims to make customers feel comfortable about broaching delicate or embarrassing topics that the brand's products address. But it also nudges the customer to buy, so it's more than a feel-good check-in.
3. Price-drop notification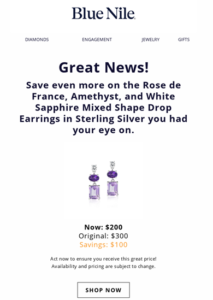 Subject line: Jewelry You Viewed Has Dropped in Price!
Why it's helpful: This email takes an abandoned cart or abandoned browse email to the next level. This is especially true on big-ticket items like fine jewelry, furniture, sports equipment, or designer clothing. If you promise subscribers at opt-that they'll get the first crack at discounts and special prices, this email helps you deliver on that promise. You may even recover a sale.
4. Customer success: education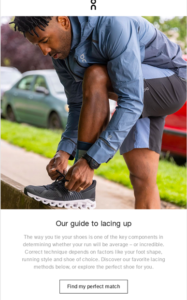 Subject line: How to lace your shoes for your best run ever
Why it's helpful: Everybody wins when your customers buy the right product and use it the right way. In this email, On Running addresses a specific issue for runners: Lacing up their new shoes. It does so by using products customers either bought or would be interested in. Bonus: This approach can help reduce returns and customer-service calls and lead to repeat purchases. This saves money and strengthens customer relationships. Remember, at the heart of Helpful Marketing is customer service.
 5. Help customers live better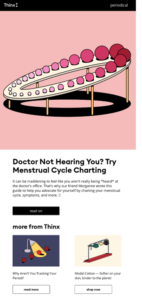 Subject line:  Ever feel like your doctor isn't really listening?
Why it's helpful: Thinx is a steady presence in its customers' inboxes. It sends an average of 2.1 campaigns a week, mixing discounts with new-product announcements and product education. But it regularly features advice on issues that go beyond just which product to use. This gives the brand another relevant reason to show up in the inbox.
This email speaks directly to something many women face, beginning with an intriguing subject line. Helpful advice like this can make customers trust your brand and turn to it more often, which generates more sales and reduces churn.
Want to see more examples? View my collection of 17 helpful-marketing emails at MailCharts.
Three quick moves to pivot your email program to helpful marketing
To be successful with Helpful Marketing, you'll need to shift your entire approach to your customers and how you use email marketing to connect with them. Begin today!
These three steps will help you reorient your email program to one that puts customers first.
Change your pronouns from "we" and "ours" to "you" and "yours." Suddenly you're putting yourself in your customers' shoes and seeing things from their standpoint.
Map out your customer journey. This will reveal opportunities to connect using segmentation and marketing automation to reach out at critical points along the way.
Test to discover what makes customers respond. Don't just test single elements like a subject line, call to action, or image. Start with a hypothesis – what you think might happen. From there, create control and variable campaigns that can show you the themes and motivations that prompt your customers to act.
Moving to customer-centric Helpful Marketing won't happen overnight. But you can begin today. Test to see what works, and build on what you learn to create an email marketing program that benefits your customers and your brand.
First published on Clickz.com on the 3rd of November 2022