Facebook failure highlights why email reigns
What were you doing when Facebook went down on Monday?
If you were like many of your fellow marketers, you were tearing your hair out because you couldn't access any Facebook-owned sites like Facebook, Instagram and WhatsApp. No social posting. No campaign research, launches or analysis. Gaahhhhh!
But some resourceful email marketers seized the opportunity to launch quick campaigns that capitalized gleefully on the global outage and we're going to show you why email reigns.
How marketers responded
Within an hour after Facebook's platform got knocked out, the first emails began to roll into inboxes, with subject lines like "Here's a distraction while Instagram/Facebook are down…" (Mott & Bow) and "Instagram (Got U) Down?" (Lulu's).
Some marketers, like Rifle Paper Co., likely scrapped the original subject line on a planned campaign without altering the message content.
Subject line: "Instagram May Be Down, but Our Holiday Arrivals Are Up"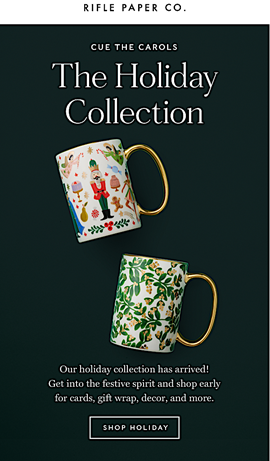 Image via MailCharts
Other brands, like Postable, came up with a whole campaign, including a custom coupon code, in just a couple of hours.
Subject line: "Facebook and Instagram relief is here!"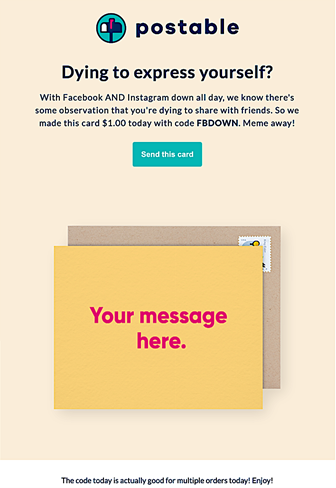 Image via MailCharts
This email from apparel retailer James Mae reminds recipients why they rule – because they subscribe to the brand's email updates!
Subject line: ? Instagram is down, so we have a SALE!?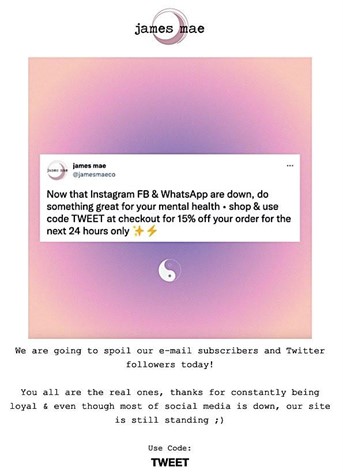 Image via MailCharts
3 lessons we learned from Facebook's fail (and why email reigns)
Here are some takeaways to think about and share with your team before another social media whoopsie happens:
1. Controlling the access to your audience pays off.
Yes, configuration errors that knocked Facebook-owned platforms offline can happen to anyone. If you have ever run to Down Detector to find out why Mailchimp has ground to a halt yet again, you can testify to this. But you still control your email database and can market to it.
When a social platform goes offline, shuts down or outlives its usefulness, you can't reach your followers, whether you have 10 or 10 million. And whilst an email platform can fire you as a client if you don't follow its policies, I find it more transparent than a social platform that can turn off your account at will with little recourse, blocking you from your fans and followers.
Your social media presence can introduce your brand to a wider pool of potential subscribers. One of your key objectives, then, can be to convert your fans and followers into subscribers. So, if the social platform goes down or you lose access again, you can contact them.
2. So does agile marketing.
Some marketers flocked to Slack and discussion groups to moan, "What shall we do?" But savvy email teams got to work and knocked out campaigns quickly. They understood the value of their email databases and took advantage of agile marketing to make hay whilst the Facebook sun was down.
This is a good reminder to marketers: Review your email strategy, creation and deployment structure and find ways to take out unnecessary steps, especially in the approval process. If your team needs a week or more to go from strategic planning to tactical execution, look for ways to make the process more efficient.
Because you know it's going to happen again. Monday's outage lasted for about six hours, but a similar outage in 2019 kept the site offline for 24 hours. If Facebook or Instagram goes down again, taking your contacts and even revenue with it, how fast could you scramble out a replacement email campaign?
Failing that, have a pre-built and approved campaign at the ready for such situations.
3. Email reigns and deserves more respect and money.
If anything, the Facebook/Instagram/WhatsApp outage just reinforced many reasons why email is the reigning digital marketing channel. Here are a few reminders:
Everyone online has an email address.
It is a push channel, so you're not waiting for the user to visit your website, social channel or perform a search
It's one of only two universal digital channels, the other being SMS.
Nobody owns email except the brand.
It's fast and flexible. You can send many different types of information.
It works.
Did any of these campaigns score surprise gains to make up for lost revenue on Facebook's platform? I don't know, and it's almost beside the point.
Something just as important happened. These emails confirmed for me – and, I hope, for budget-minded executives who consistently favor social media over email – that email is really the king of all digital channels.
Too many websites dedicate valuable real estate to their social media channels and give email just a fraction of that space – often just a form field with no room to sell people on the benefits of subscribing, and equally as often stuck down in the fine print at the bottom of the website front page.
Given email's value in driving revenue, traffic and engagement for a brand, it makes more sense to let the email team make these decisions or at least have a say in the process.
Keep reminding management about the value of an email address
It's easy for the email team to chuckle at social media marketers who had a terrible, horrible, no-good, very bad day on Monday. The entire internet would have to go down to affect email the same way.
But we also have to feel for all the small business owners who built their businesses on a platform they don't own, with followers they couldn't access, and who lost money every minute the platform was down.
Social media is great for building reach and awareness … and for growing your email list! But let's also remember – and remind the budget decision-makers – that social media and email succeed when they work together, and that email's conversion and revenue advantages can benefit social media, too.
Want another clever email that indulges in a little clever Schadenfreude at Facebook's expense? Of course you do. I'll close with this one from Cratejoy:
Subject line: The internet is broken! Here's 40% off!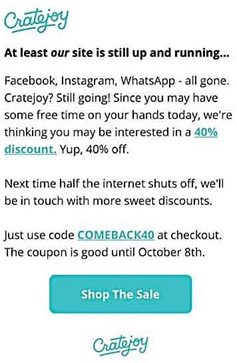 Image via MailCharts
First published in martech.com on the 8th October 2021