12 Email Marketing Experts Reveal Their Top Tips For Increasing Conversions Throughout The Customer Journey
We asked the best email marketing experts the burning question: "What are some top recommendations for increasing conversions throughout the customer journey?"
So we asked 12 of the best email marketing experts what their top recommendation was…all is revealed below!
So, get comfy and settle in for some insightful tips from Kath Pay, David Daniels, Jordie van Rijn, Dela Quist, Ryan Phelan, Dave Littlechild, Parry Malm, Jonathan Pay, Dave Holland, Cardavan Serinash, Tim Watson & Michal Leszczynski.
Give them a Great Customer Experience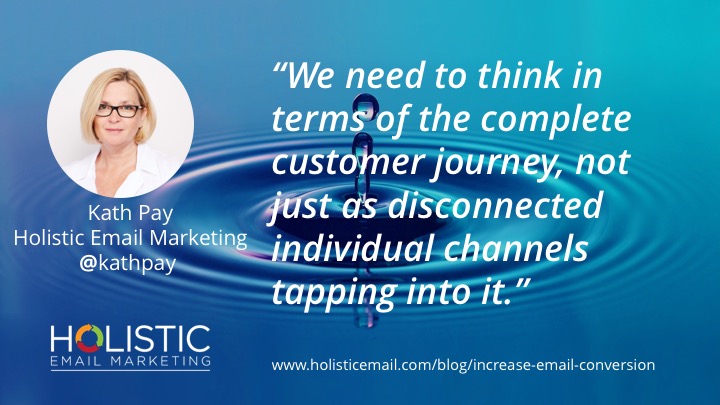 Kath Pay from Holistic Email Marketing recommends:
Consumers are now demanding a good online customer experience. Gone are the days when they were just excited to buy online – regardless of how hard we (inadvertently) made it for them to achieve their objective. Nowadays, they don't just want the right product for the right price at the right time, but they want to be able to acquire it easily and simply. Yes, they want it all, and unsurprisingly, and in their attempt to get it all, they will go to a competitor if necessary. Our loss in this case, may not only be a short term loss, as we haven't made the sale, but potentially also a long term loss, in that we've lost them to a competitor – forever….
To resolve this, we, the marketers, need to do the hard work for them and ensure the consumers can achieve their objective easily and even, dare I say it, enjoyably. Therefore, we need to think in terms of the complete customer journey, not just as disconnected individual channels tapping into it.
As email is a push channel, one of its innate benefits is that it is incredibly effective at driving consumers to your website. In fact, with many ecommerce sites we work with, it's often the main driver of traffic, and as such, often their journey begins with email. On this basis, we need to ensure that the experience we are providing with our email programmes is aligned with our ecommerce and website experience. UX (user experience) is rarely discussed when it comes to email programmes, but it needs to be.
Be Customer-Centric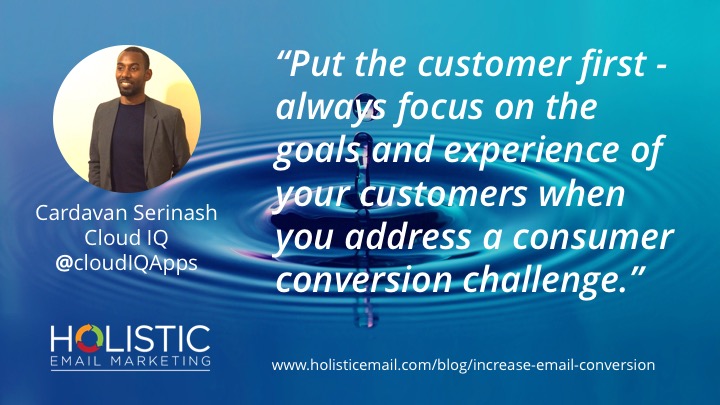 Cardavan Serinash, Cloud IQ
Putting the customer first – always focus on the goals and experience of your customers when you address a consumer conversion challenge. In doing so, you're more likely to improve the experience of your brand and build a customer journey that gains trust, builds loyalty and inevitably leads to increased conversions. If you're not sure what will work best for your customers – ask them. Let their story guide you and listen to the data. Every tiny interaction on your site paints a picture of your customers' preferences and intentions, to reveal essential insights that can inform conversion optimisation tweaks to your site. And if you want validation, an A/B or MVT test is a quick and easy way to confirm and build on the story.
Subject Line Testing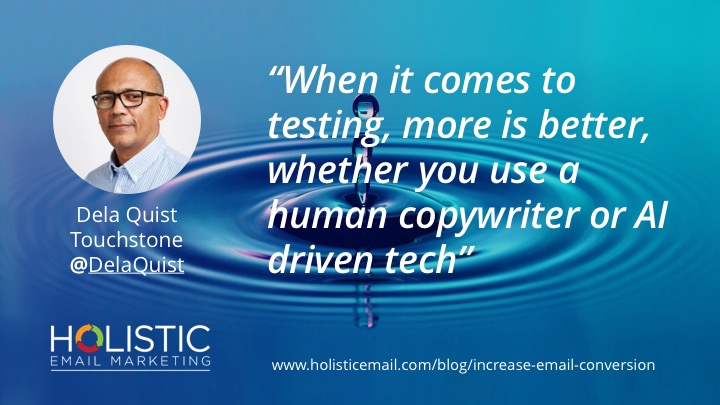 Dela Quist, Touchstone
Testing as everyone knows is a proven way to ensure each email you send engages as many people as possible. The problem is A/B testing, that is 2 SL's at a time, isn't enough.
Recent research into data contained within Touchstone a testing App that allows marketers to try out as many SL's as they like without burning out their database shows. Marketers who do not test SL's at all face a 1 in 3 chance the one they use will underperform their average by at least 20% and a 1 in 10 chance that it will underperform 42% below average. A/B testing does improve the chances of success but there is still a nearly 10% chance both will be 20% or more below average.  SL "A" is bad, "B" is worse – bad beats worse, but they are both crap!
More proof comes in the form of a case study by Persado who use AI to generate SL's. Client Air Canada went from testing two email messages to 32 versions. When it comes to testing more is better whether you use a human copywriter or AI driven tech like Persado or Phrasee. Now I accept that not everyone has the resources or enough people on their list to write and test 32 different SL's every time they send an email, but we do recommend everyone test at four subject lines at a time. A four SL test is likely to result in a lift of 33, by comparison a classic A/B test is only likely to give a lift of 3%. Even if you run a 3 SL test your likely open rate lift will be seven times higher.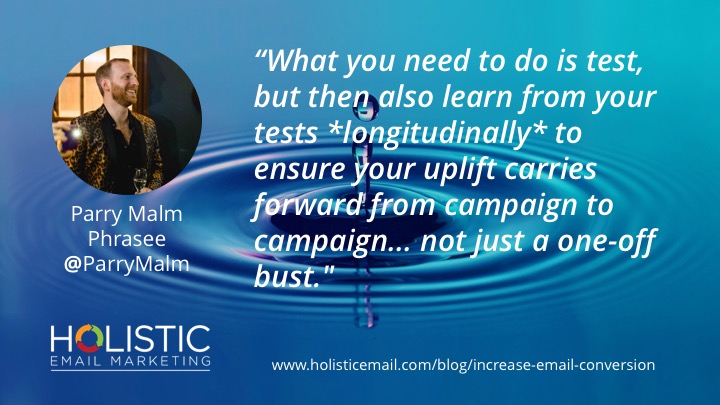 Parry Malm, Phrasee
"We focus on increasing the top-of-the-funnel using optimized subject lines… and here's what we've learned: It's easy to get more opens on one campaign. BUT: it's really, really hard to sustain that uplift on a longitudinal basis. What you need to do is test (obv) but then also learn from your tests *longitudinally* to ensure your uplift carries forward from campaign to campaign… not just a one-off bust."
Automation throughout the customer lifecycle: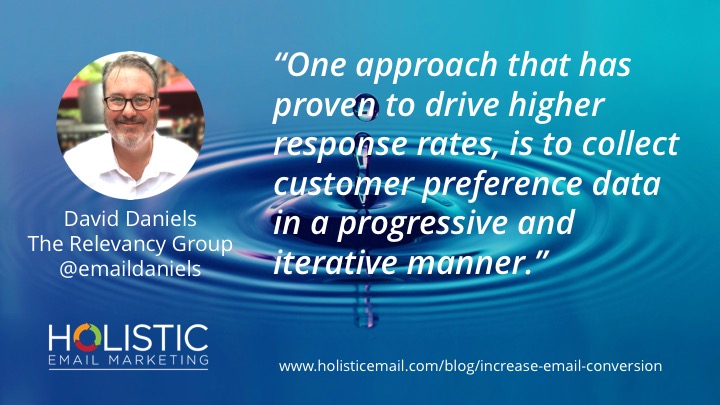 David Daniels, The Relevancy Group
"It is key to use automations of the best performing journeys that you have already tested.  This typically includes things such as the cadence and content of welcome messages as well as site and cart abandonment programmes. One approach that has proven to drive higher response rates is to collect customer preference data in a progressive and iterative manner.  Each of those automated messages should include an easy way for subscribers to provide feedback.  Some of the best creative treatments that we have seen are mobile optimized and use familiar swipable interfaces or the use of emoji's to address an international non-language-specific audience.  This approach allows consumers to easily provide feedback or preference data and even hit a button to save the item for later.  The mobile readiness is also key as The Relevancy Group consumer data indicates that one third of consumers use mobile phones as their primary email inbox which is an important subset of the nearly 90% of consumers that use their mobile to triage their inbox."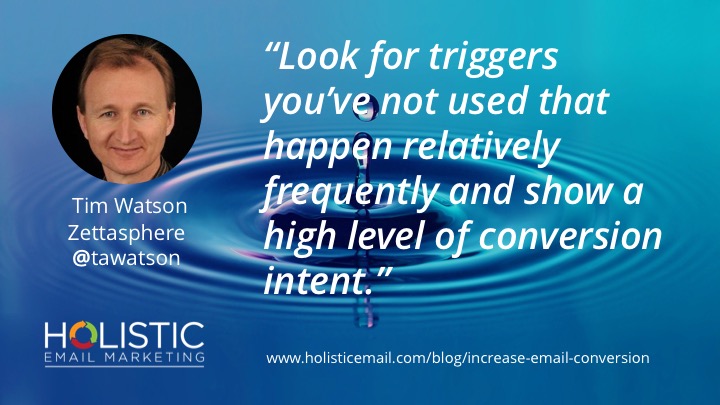 Tim Watson, Zettasphere
"Try reviewing your customer journey, look for holes and opportunities you can plug and test with additional contact emails. This applies to automated journeys and promotional emails. Especially look for triggers you've not used that happen relatively frequently and show a high level of conversion intent. Here are a few examples to get you going…
Got a big event closing at midnight? Test emailing all the people who clicked in previous emails about the big event but didn't purchase, email them late afternoon – even if you emailed the full segment in the morning.
Sending out an automated email after someone asks for a quote or subscribes? Great. Test adding a second or third email with increasing cadence. First email immediate on trigger, follow-up a few days later, 3rd follow up a couple of weeks later. Depending on consideration period for the product a follow up a few weeks later can still net results.
Test targeting site visitors that browsed and didn't purchase. Follow up with browsed products, recommended products or a customer service help outreach email."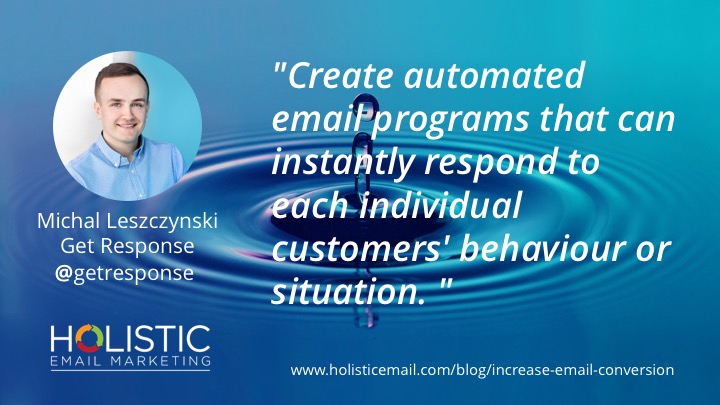 Michal Leszczynski, GetResponse
"Brands that want to increase their conversions throughout the customer journey need to have two things in place. First, a thorough understanding of their customers' intentions and desires at every single stage of the buyer's cycle. The second element are automated email programs that can instantly respond to each individual customers' behaviour or situation.
Remember – your list is built of individual people, who have different preferences and are all at a different moment in their customer journey. They may have just signed up to your mailing list, placed their first order, chosen international shipping or a product in a given size, bought an extra strap to the watch they'd purchased a year before, or opened none of your messages in a while. And that's just several scenarios. If you want to convert users in situations like these, you'll need to approach them with different sets of emails. Emails that will be relevant to them and will reach them at exactly the moment when they're most likely to act."
Build a rich customer profile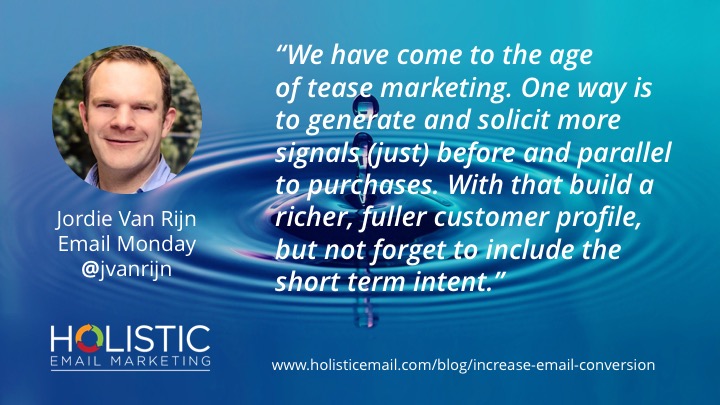 Jordie van Rijn, Email Monday
"Whole reason Google Search is so massively successful, making billions on Ads, is that it is built around the fact that we must know Who is interested, but also When (and sometimes Why).
Over the years marketers have become better and better at picking up the behavioral signals that were already there. Following up abandoned shopping carts for instance, or people looking at pricing. Clickthroughs that originated from comparison sites, re-targeting, etc. The problem with direct signals is there are typically never enough of them. How will we know, if the client didn't "add to cart to abandon" and the signals aren't there?
The smart ecommerce companies that already implemented all of the direct signal -> follow up campaigns are thinking, what's next? And therefore we have come to the age of tease marketing.
One way is to generate and solicit more signals (just) before and parallel to purchases. With that build a richer, fuller customer profile, but not forget to include the short term intent. Test and optimize the ways to ask for or gauge additional profile information."
Use personalisation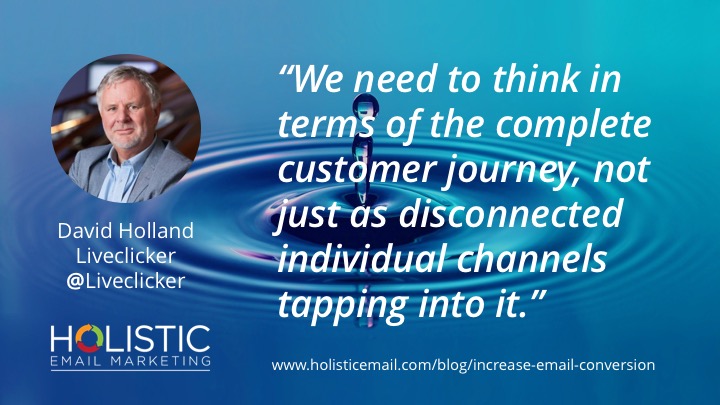 Dave Holland, Liveclicker
"This is a huge subject and it would be easy to skate over the many key points we should cover, but if I'm pressed to nail one top recommendation that I see brands doing successfully to increase conversions throughout the customer journey in email it has to be 'Personalisation.' Forget 'generic' messaging, throw away 'irrelevant' content, discard 'out of date' inventory or offers and make every email opened count by including 'personalised', 'relevant' and 'live' content.
Never before in the history of email marketing have there been all the tools marketers need to achieve this as there are right now and it pushes the emphasis away from what content is going to drive a sale at the moment of send towards the moment of open. What's going to make them buy right now when they open the email? Will the same content work in the morning as in the evening, if it's sunny or raining, if they are opening on an iPhone or an Android or if it's the second time they've opened this email? If the answer is NO – then why not increase the chances of a sale through making sure the content is contextual at each point of open – at whatever stage of the customer life cycle or circumstance?
My favourite tool right now is real-time profiling, where no matter when you send an email, the most relevant content will be delivered at the moment of open based on their latest Web or App or SMS or Social activity. If you send me an email with the latest offer on a product I saw on your site a few days ago and you sent me a triggered email but now – two days later-  has limited stock with a higher price reduction that I will need this weekend because it's going to be raining where I live – the probability that I will buy just increased significantly. Don't take my word for it either, there are plenty of brands doing it right now and driving increased sales all year round – not just on Black Friday and Christmas. I hope you're one of them!"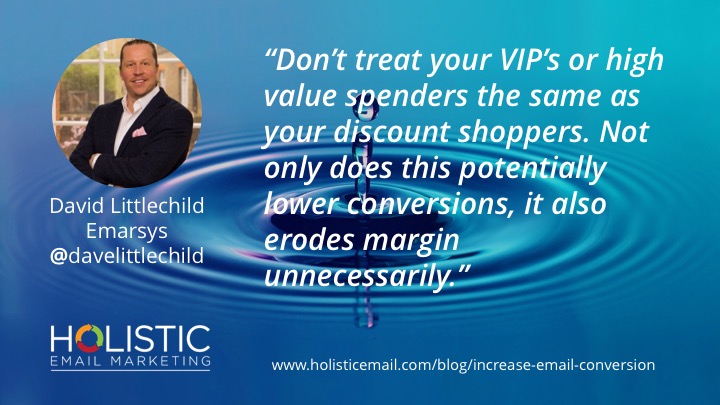 Dave Littlechild, Emarsys
"For me, the first step is to understand exactly where your customer sits in the Customer Journey or Lifecycle; and for many companies can be a challenge.  Disparate pots of data or silo'ed teams can often be a barrier.  Yet without this, how can you create the right communications and the right delivery points across channels accurately?
Once you have that picture and understanding, then it's a damn sight easier to put together testing strategies for different programs or communications based upon lifecycle stage!
Following that, personalizing those communications is completely key.  To what level you can do this is obviously dependent on your current tech capabilities but at the very least look to understand types of buyer persona to tailor the messages accordingly.  For example, don't treat your VIP's or high value spenders the same as your discount shoppers – not only does this potentially lower conversions, it also erodes margin unnecessarily.
Once you've got this, test everything – but always include a control group.  For example, if you're running off a discount offer and if you have an automation flow which sends X number down one path to receive offer A and Y number down another path to receive offer B, ensure you send a selection to receive no offer at all to see if there is actually any point in the offer at all.
And finally – when someone transacts and buys, please, please suppress them from getting targeted with the same (or nearly identical) products on email (or indeed other channels).  For me, there really is nothing worse than being chased around the internet for a product I already bought from you 2 weeks ago!"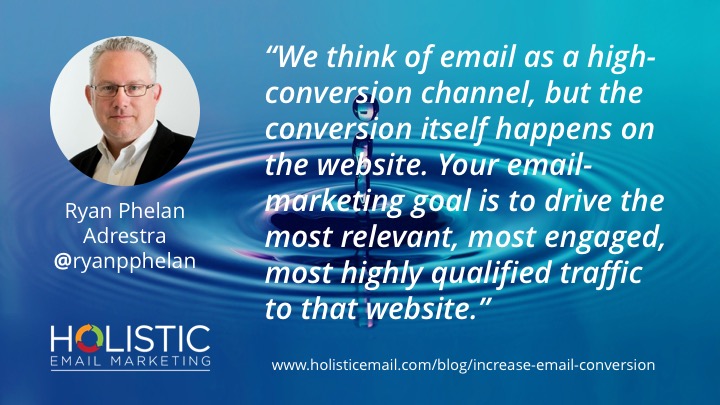 Ryan Phelan, Adestra
"We think of email as a high-conversion channel, but the conversion itself happens on the website. Your email-marketing goal is to drive the most relevant, most engaged, most highly qualified traffic to that website. Where does that highly engaged and qualified traffic come from? Your own customers. Two email triggers will help you build on your customers' interest and loyalty:
Cross-sell/upsell content: Transactional messages drive your highest-qualified traffic because they go to people who just had their wallets out and will open those highly relevant emails. Add product suggestions associated with those purchases to your messages confirming their transactions and other follow-up emails.
Next Logical Product trigger: This is different from cross-selling/upselling. You know, for example, that customers who buy your washer-dryer combination but not the stands that go with it will buy them later. You want them to buy yours, of course. So, add that content to your transactional message with a message such as, "If you need this, we have just the right one for you."
Use email as your main testing tool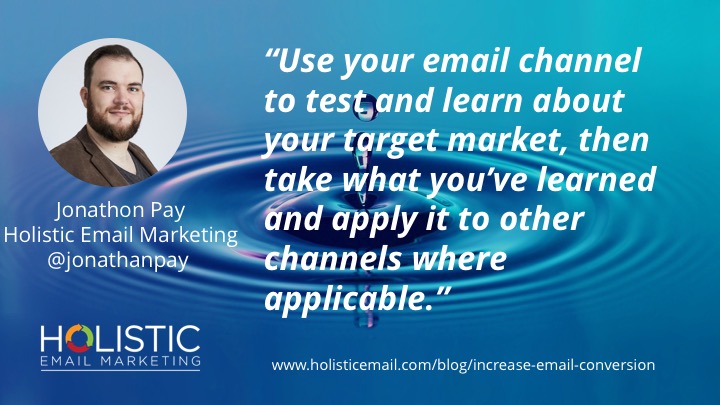 Jonathan Pay, Holistic Email Marketing
Use your email channel to test and learn about your target market, then take what you've learned and apply it to other channels where applicable. Your email audience makes up your target market: They're keen to hear from you (and buy from you). You should want to find out what they like and don't like when it comes to the customer journey.
You can do achieve this with a robust testing plan that has a series of hypothesis-led tests laid out. The results of those tests should give you insight in to your audience that will allow you to further test in other channels, like your website. All this leads to improved conversions through an optimised customer journey. All thanks to testing your audience through the cheap and immediate push channel that we know and love, email."
So, there you have it!
12 of the top experts in email marketing revealing their top recommendations to increase conversions throughout the customer journey.
Share this with your friends and colleagues, and if you have some advice to contribute Tweet us at @holisticemail